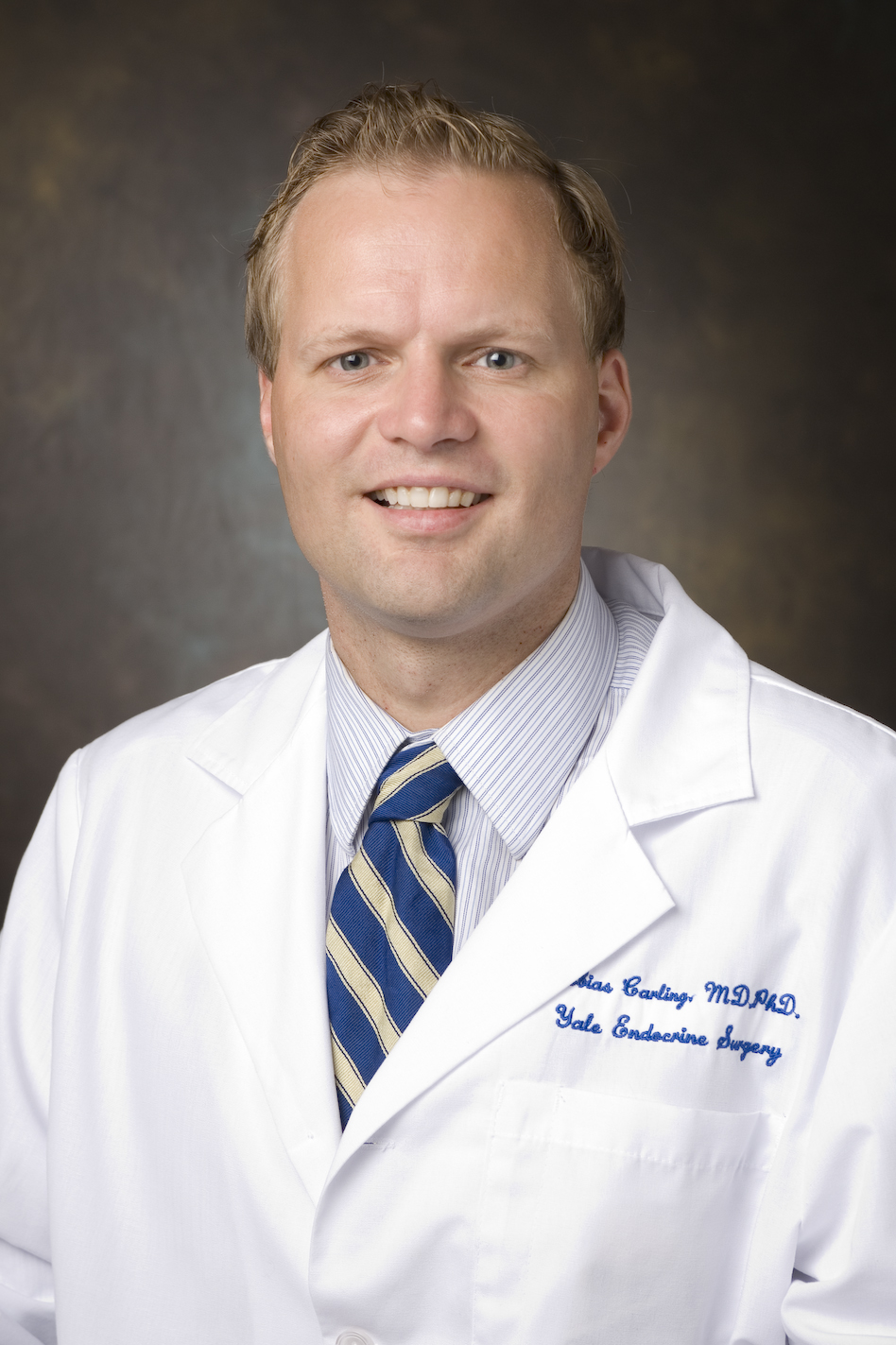 Tobias Carling MD, PhD, FACS. Dr. Carling is the most experienced adrenal surgeon in the US, and by far the world's most knowledgeable surgeon-scientist when it comes to adrenal gland function and disease, adrenal tumors and cancer and all forms of adrenal gland surgery. Dr. Carling has more experience with advanced minimally invasive adrenal and endocrine operations than any surgeon in the United States. A fellow of the American College of Surgeons, Dr. Carling is a significant member of both the American Association of Endocrine Surgeons (AAES) and the International Association of Endocrine Surgeons (IAES).
Dr Tobais Carling as Chief of Endocrine Surgery at Yale University.
Dr. Carling spent 17.5 years at Yale University and the Yale University School of Medicine where he served as the Chief of Endocrine Surgery, Associate Professor of Surgery, Program Director of the Yale Endocrine Surgery Fellowship and the Founder & Director of the Yale Endocrine Neoplasia Laboratory, a highest-level scientific program focused on the molecular pathogenesis of tumors arising in the adrenal, thyroid and parathyroid glands.
The Carling Adrenal Center
Dr Carling moved his world-known adrenal surgery program to Tampa, Florida in January 2020 to start the Carling Adrenal Center. Here, patients needing adrenal surgery have access to the best practices and best techniques the world has to offer.
Adrenal Gland and Adrenal Surgery Expert. Dr Carling has dedicated his entire career to the diagnosis and surgical treatment of adrenal gland tumors. He built the Yale University Adrenal Tumor Program into the preiminant adrenal tumor surgery center in the world where he performed more adrenal surgery in a week than 99% of hospitals in the US perform in a year. In 2019, he moved his adrenal surgery program to Tampa Florida to open the Carling Adrenal Center specializing in all forms of adrenal surgery, offering minimally invasive adrenalectomy to nearly all patients.
---
Have a Question?
We know that there is a lot of information on the site and it can be hard to take it all in. If you have a question for Dr. Carling or for our office, please contact us using this form and we'd be happy to help.
---
Dr Carling's Contributions to Adrenal Cancer Research. Dr Carling has published some of the most important scientific journal articles on adrenal tumors of our generation improving the understanding of adrenal tumor growth, function and cure. Having focused his PhD doctorate studies on molecular and tumor genetics of endocrine tumors, including inherited adrenal and other endocrine tumor susceptibility syndromes, Dr. Carling has published in the most prestigious medical/scientific journals, including: Science, Nature Medicine, Nature Genetics, New England Journal of Medicine, PNAS, and Human Molecular Genetics. According to Google Scholar calculations of scientific impact, Dr. Carling ranks within the highest-quality elite of the world. As a physician-leader, he implemented improved endocrine medical and surgical care, as well as enhanced cancer prevention and genetics programs across the Yale New Haven Health Systems and now brings this expertise to his own center in Florida.
Dr Carling's Education. He obtained his MD and PhD from Uppsala University, Sweden. He then came to the US in 2000 for a prostegeous postdoctoral fellowship in Cancer Genetics at The Burnham Institute, La Jolla, CA. He completed his training in both General Surgery and Endocrine Surgery at Yale New Haven Hospital and Yale University School of Medicine joining the faculty at Yale in 2008. He became the Director of all Endocrine Surgery at Yale in 2013 and the Director of their Endocrine Tumor Program at that time.
---
You Can Have the Worlds Most Experienced Adrenal Surgeon Perform Your Adrenal Surgery
Because of his expertise, and exceptional results, Dr Carling is believed to be the highest-volume adrenal surgeon in the world, performing more than 10 times any other surgeon in the US. Patients travel from around the world to have adrenal surgery by Dr Carling. Our staff will take care of every aspect of your trip here except for the travel. We'll even help you with hotel rooms.
Same day surgery, or over night. Over 90% of patients with adrenal tumors undergo a minimally invasive operation that allows them to go home the same day or the very next morning. Nearly all patients will have three small scars on their lower back that is only one-half to one inch long. The average operative time is less than 30 minutes for this mini-scope operation. Dr Carling believes that every patient should have the same operation that he would want for himself or his family, and thus we don't use surgeons in training, surgery residents or surgery fellows to do your operation. If you come to the Carling Adrenal Center, you will have one of the world's most gifted and experienced adrenal surgeons perform your operation and taking care of you at the hospital.
If you want to become our patient, we have a separate page that explains the process and the cost. Click Here.
The Carling Adrenal Center is dedicated to adrenal surgery only. We operate within one of two large Tampa hospitals. We will take care of
---
International Endocrine Surgery Institute and Hospital
The Carling Adrenal Center is one of THREE very specific surgery specialties within the
International Endocrine Surgery Institute and Hospital.
He joins the world-famous Norman Parathyroid Center - the largest parathyoid gland center in the world, and the Clayman Thyroid Center - America's highest volume thyroid surgery center. By recruiting Dr Carling to Tampa, the Institute now boasts the world's most reverred surgeons in the three major endocrine surgical fields: Thyroid, Parathyroid, and Adrenal.
---
Dr Tobias Carling's Other Leadership Positions
Dr Carling also held a major leadership position at the Smilow Cancer Hospital at the Yale New Haven Hospital and Yale Medical School, overseeing all aspects of the Endocrine Neoplasia/Cancers Program as the Clinical Program and Disease Aligned Research Team Leader. This leadership position involved overseeing all the multidisciplinary care of patients with endocrine tumor disease including adrenal, thyroid, parathyroid and endocrine pancreas. This inlcluded surgical treatment of endocrine and adrenal tumors as well as molecular diagnostics, and cancer genetics of endocrine tumors.
---
---
What to read next
Have your Adrenal Surgery with Dr Carling. We have an entire page that will walk you through this process. We take almost all insurance types for the operation, but some people will elect to pay for an Online Second Opinion Consultation with Dr Carling before traveling to Tampa for the operation.
Mini-Back Scope Adrenal Surgery. Dr Carling is the world's leader at mini-adrenal surgery--performing more in a week than most hospitals and universities perform in a year. Learn more about how 95% of patients can have this very successful, quick operation to remove their adrenal tumor.
Standard Adrenal Surgery and Other Adrenal Operations. See the old-fashioned adrenal gland operation that most surgeons in the US and worldwide perform and why this is not a good choice for almost all patients.